Recognizing that employees are their organization's most important asset, many employers today are trying to innovate to meet their employees' needs. At Lussier, we believe that flexible benefits, as an essential component of a total rewards program, are an important mobilization lever that not only attracts, motivates and retains the best performing employees, but also ensures the achievement of a company's business objectives.
Flexible Benefits: A Mobilisation Tool
There are several models of flexible benefits that allow employees to choose the features of their group benefits coverage. Here are the four main variants of flexible benefit plans available to you: 
The Core Plus Options Plan: This type of plan provides a single, general basic coverage for all employees, while offering a range of optional benefits.
The Health Care Spending Account: This option allows each member to use credits paid by the organization to pay for medical and dental expenses not covered by the employer-sponsored group benefits program or provincial health insurance plan; this type of account is usually offered in addition to the traditional insurance plan.
The Modular Plan: is composed of "modules" of plans grouping together various coverages arranged according to the demographic characteristics of certain groups of employees.
The « à la carte » Plan: The most flexible application of flexible benefits; it does not provide basic coverage, but rather allows employees to choose from a wide range of options, so they build their own insurance coverage into this type of plan, while still meeting certain minimum standards.
Over the next few years, there is every reason to believe that the challenges associated with the transformation of the socio-demographic characteristics of today's workforce will be serious.
Adapting to employees' lifestyles and representing an important mobilization and management tool for the employer, there is no doubt that the flexibility conferred by flexible benefits is a major asset enabling an organization to stand out as an employer of choice.
At Lussier, We Listen to our Clients
Lussier's group insurance experts are able to support you in the design, implementation and communication of flexible group insurance plans.
Here is a concrete example of a simple flexible structure that allows you to adapt your program to your employees' reality while controlling costs.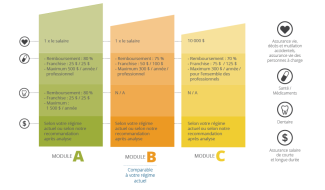 This modular system makes it possible to:
Control insurance costs
Provide employees with a choice of coverage that meets their evolving needs
Optimize the employer's financial contribution to various social plans to the satisfaction of employees
Maximize the choices available to meet the different lifestyles of each employee
Lussier's team of experts is at your disposal to support you in the implementation of a flexible group insurance plan.
We invite you to contact us for any question regarding our consulting services in group insurance.