Terrebonne, May 25, 2021 – Samson Consulting Group, a member of the Lussier Dale Parizeau group, announces the confirmation of its partnership with the Fondation de l'athlète d'excellence du Québec (FAEQ) for the year 2021. This investment will provide $20,000 annually in individual scholarships through the FAEQ sponsorship program. Five top student-athletes will share the $20,000 in scholarships and will be sponsored by Lussier Dale Parizeau in 2021: Simone Boilard, Adam Roberge, Élisabeth Boutin, Pier-André Côté and Sophianne Samson.
Samson Consulting Group, a member of the Lussier Dale Parizeau group, joined the FAEQ sponsorship program in 2004, sponsoring the late Émilie Mondor, a long-distance track and field and cross-country runner, as well as synchronized swimmer Anouk Renière-Lafrenière. They both participated in the Athens Olympic Games in 2004. Subsequently, Samson Consulting Group supported Alex Genest, who participated in the 2012 London Olympic Games (3,000 m Steeplechase), Rémi Pelletier Roy, Simon Léveillé, Annie Leblanc, Marie-Christine Mondor, Karol-Ann Canuel, Audrey Labrie, Alexis Turgeon, Raphaël Couturier, François Déry, Simon-Pierre Gauthier, Francis Lefebvre, Karol-Ann Roy and Antoine Thibault.
Jean Samson, now Vice President of Development and Client Relations at Lussier Dale Parizeau, stated: "We have shared some great moments with the student-athletes we have supported and are currently supporting over the past few years. Their hard work in training, their daily discipline, their will to achieve their goals and their generosity to others have allowed us to better know and appreciate these exceptional student-athletes. Our enthusiasm to be with them and to talk about them has been a source of motivation for our team. Their involvement with the youth, their enthusiasm, their generosity, the efforts they devote to their discipline in order to achieve their goals are values to which we fully subscribe. "
Pascal Lavigne, Vice-President, Talents and Culture, commented: "These youths have made a "healthy" lifestyle choice that is in line with the message we want to promote to our employees and clientele. We are therefore pleased to continue SGC's involvement over the years and renew our partnership with the Fondation de l'athlète d'excellence thanks to its credibility and the common values we share. "This support goes far beyond the financial aspect and the company's enthusiasm for the student-athletes it sponsors: Lussier Dale Parizeau and the FAEQ are thus united for the academic, athletic and professional success of their scholarship recipients.
Academic and athletic profiles of the 5 student-athletes sponsored by SGC, member of Lussier Dale Parizeau in 2021: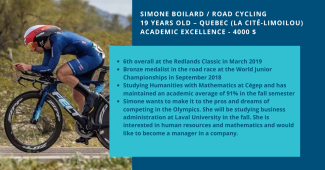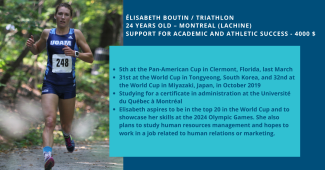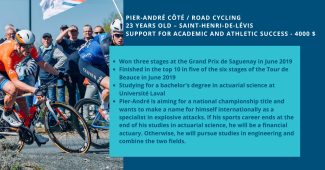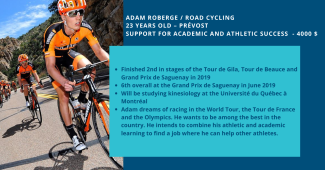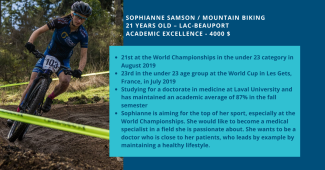 About Samson Consulting Group
Founded in 1994, Samson Consulting Group Inc. is an actuarial firm that offers practical and personalized consulting services, specifically in insurance and group annuities, corporate health and communication. The firm offers its clients innovative and appropriate solutions, supported by effective communication. The firm obtained the "Entreprise en santé" accreditation from the Bureau de normalisation du Québec in the fall of 2009. Samson Consulting Group joined the Lussier Dale Parizeau Group in July 2019, allowing it to offer its clients a complementary range of financial services to businesses and individuals.
About Lussier Dale Parizeau
Lussier Dale Parizeau is the largest insurance and financial services firm in Quebec. It develops protection solutions for individuals, businesses as well as groups and associations in group insurance, human resources, occupational health and safety, pay equity, pension plans and in all areas of property and casualty insurance to ensure that our clients' human and financial assets are protected.
About the FAEQ
Since its creation in 1985, the FAEQ has awarded no less than $20 million in scholarships, representing 6,500 individual scholarships to 3,000 different recipients. In addition to providing financial support to Quebec student-athletes, the FAEQ also offers guidance in terms of academic orientation, reconciling sports and studies, internships, etc. The FAEQ stands out for its personalized approach, its rigorous management and its role of influence in the sports and education community. faeq.com
Media Relations:
Jean Samson, B.Sc.Act,
Vice President, Development and Client Relations
Lussier Dale Parizeau
Cell. : 514 233-3240
jsamson@samsongroupeconseil.com 
Jacinthe Figueredo
Marketing Director
Lussier Dale Parizeau
jfigueredo@ldpi.ca
514-868-6498
Annie Pelletier
Director of Communications/Partnerships
Fondation de l'athlète d'excellence du Québec
annie.pelletier@faeq.com