Montreal, May 26th 2022 - Lussier, formerly known as Lussier Dale Parizeau, confirms its partnership with the Foundation for Athletic Excellence (FAEQ) by announcing a 20 000 $ donation for the year 2022. This donation will provide six individual scholarships of 2000 $ or 4000 $ to outstanding and inspiring student-athletes.
The 2022 Lussier Scholarship recipients are Simone Boilard in road cycling, Jean-Simon Desgagnés in track and field, Olympic medallist Miha Fontaine in freestyle skiing, and Maude Frappier and Rose Théroux in figure skating. The sixth scholarship will be awarded in the coming weeks to a student athlete to be announced. The Lussier bursaries are the continuation of an initial partnership with Samson Groupe Conseil, which has provided financial support and moral encouragement to more than twenty local student-athletes over the years. 
Luc-André Lussier, Chairman of the Board of Directors at Lussier, confirms that: "This partnership is a natural fit for our company. These young student athletes embody exceptional values. They perform athletically, academically and socially by demonstrating rigor, courage, determination and resilience. They are a role model for the next generation of young people who live in a world where the virtual takes up too much space."
Jean Samson,  now Vice President of Relations with Corporate Clients at Lussier, states : "We have shared some great moments with the student-athletes we have supported and are currently supporting over the past few years. Their hard work in training, their daily discipline, their desire to achieve their goals and their generosity towards  people have allowed us to better know and appreciate these exceptional student-athletes. Our enthusiasm in getting to know them and discussing them has been a source of motivation for our team. Their involvement with young people, their energy, their perseverance and the efforts they devote to their discipline in order to achieve their goals are values to which we fully endorse.
Pascal Lavigne, Senior Vice President of Employee Experience and Corporate Identity, commented: "These young people have made a "healthy" lifestyle choice that reflects the message we want to promote to our employees and our clients. Therefore, we are pleased to renew our partnership with the Fondation de l'athlète d'excellence, which shares the same values as our organization. This support goes far beyond the financial aspect and the company's enthusiasm towards the student-athletes it sponsors: Lussier and the FAEQ are thus united for the academic, athletic and professional success of their scholarship recipients. 
Academic and Athletic Profiles of the 2022 Lussier Scholarship Recipients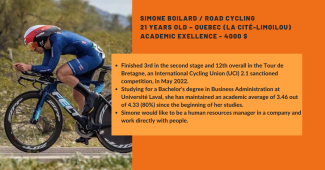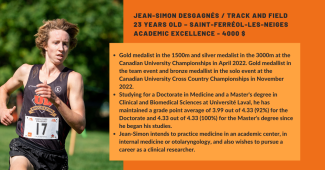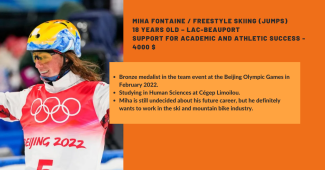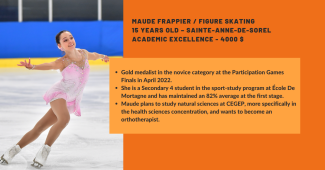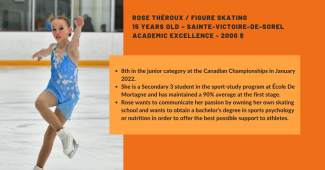 About Lussier
Lussier is the largest financial services firm in Quebec. The company develops protection solutions for individuals, businesses and professional groups and associations in group insurance, pension plans, human resources, occupational health and safety, total rewards and in all areas of property and casualty insurance.
About the FAEQ     
Since its inception in 1985, the FAEQ has awarded no less than 20 million $ in scholarships, representing 6500 individual scholarships to 3500 different scholarship recipients. The FAEQ offers not only financial support to Quebec student-athletes, but also accompaniment services in terms of academic orientation, reconciliation of sports and studies, internships, etc. FAEQ is distinguished by its personalized approach, its rigorous management and its role of influence in the sports and education community. faeq.com 
 
- 30 -
Sources:                                                                  
Pascal Lavigne
Senior Vice President, Employee Experience and Corporate Identity ay Lussier
Cell. : 514 299-1680
plavigne@lussier.co
Jean Samson, B.sc.act,
Vice President , Relations with Corporate Clients at Lussier
Cell. : 514 233-3240
jsamson@lussier.co
Annie Pelletier
Director of Communications/Partnerships
Fondation de l'athlète d'excellence 
annie.pelletier@faeq.com